Apple Laptop MacBook Air With 13-inch Retina Display, 8th Generation Dual-core Intel Core i5 1.6GHz, 8 GB Ram, 256 GB SSD, Intel UHD Graphics 617, With Touch ID, Gold | MREF2LL/A
Warranty:

1 Year

Quick and hassle free warranty claims
4,684.05
AED
Inclusive of VAT
In Stock
Condition: New
Availability: In Stock

Free

delivery by

Tomorrow, Feb 24

If you order within 6 Hours, 44 Minutes
Description for Apple Laptop MacBook Air With 13-inch Retina Display, 8th Generation Dual-core Intel Core i5 1.6GHz, 8 GB Ram, 256 GB SSD, Intel UHD Graphics 617, With Touch ID, Gold | MREF2LL/A
Apple Macbook Air

Light, thin, powerful, rich-featured – the four words sum up Apple 12" MacBook. Grab it today, and do whatever you love anywhere – work, play, create and more.
A Retina Display that Takes Everything to the Edge
The moment you open your MacBook, its gorgeous 12-inch Retina display with edge-to-edge glass brings everything into focus. Every photo leaps off the screen in rich, vibrant detail. Over 3 million pixels render each letter with crystal clarity. And it all comes to light on the thinnest Retina display ever on a Mac, meticulously honed to deliver a bold visual experience within an impossibly minimal design.
A Full-size Keyboard In a fraction of the space
It's well known that a comfortable, full-size keyboard is essential for a great notebook experience. But to fit one into the elegantly thin MacBook, the engineers had to completely rethink how a keyboard is engineered and constructed. They redesigned each key and its underlying mechanism — not only making the whole keyboard much thinner, but also allowing for more comfortable, precise, and responsive typing that just feels right.
The Trackpad, Pushed even Further with Force Touch
MacBook comes with a different way to experience a trackpad. The Force Touch trackpad is engineered to deliver a responsive, uniform click no matter where you press the surface. And underneath, force sensors detect how much pressure you're applying. You can now use a Force click to enable useful capabilities, like quickly looking up the definition of a word or previewing a file just by clicking and continuing to press the trackpad. You'll also experience haptic feedback — a tactile vibration from the trackpad that adds the sense of touch to what you see on the screen. These advanced capabilities work in addition to all the intuitive Multi-Touch gestures Mac users love. You'll be more in touch with your Mac than ever before.
Fully Equipped for a Wireless World
MacBook is designed to fit effortlessly into our increasingly wireless world. Just about anything you do with a notebook can now be done over the air, thanks to Apple software that takes full advantage of the latest Wi-Fi and Bluetooth wireless technology. So no matter where you are, you can connect to the web, transfer files, organize your photos, listen to music, and more — without being tied down.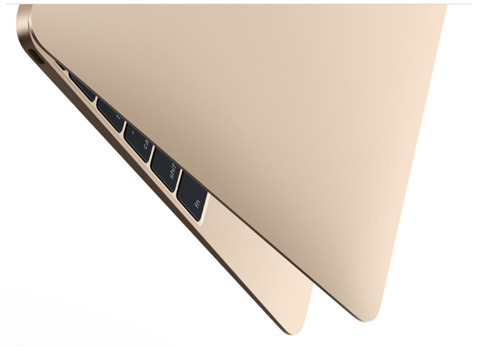 USB-C  Singularly versatile
The USB-C port puts just about everything you need in a port all in one place. This amazing port provides charging, speedy USB 3 data transfer, and video output in a reversible design that's one-third the size of a USB 3 port, giving you the flexibility to easily connect your favorite devices.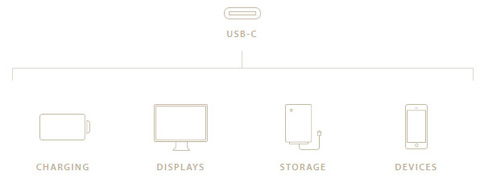 The Capability to Connect to Everything You Need
This single port lets you connect your charger; HDMI, DisplayPort, and VGA displays; USB devices like external drives; and your iPhone or iPad. All of which goes to show that sometimes less really is more. A range of accessories (sold separately) lets you connect virtually any device to your MacBook. For instance, the USB-C Digital AV Multiport Adapter lets you connect your MacBook to an HDMI display, as well as a standard USB device and a USB-C charging cable.
Quietly Astonishing
MacBook has been engineered from the ground up for silent, efficient performance. It includes sixth-generation Intel Core M processors that run on just 5 watts of power, made even more efficient by optimizations throughout macOS. Together the processor and macOS sip so little energy that the system generates very little heat, so no fan is required to cool the computer. That means when your MacBook is working, you won't hear a thing. And the logic board on which the processor sits has been painstakingly engineered to pack all the capability you expect in a Mac into as little space as possible.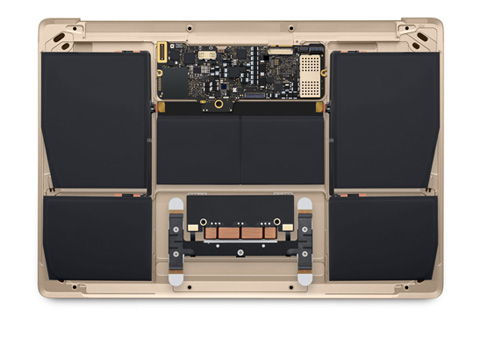 Measurably Faster
MacBook features powerful Intel Core M processors with premium integrated graphics, delivering superior processing power and graphics performance. Equipped with high-bandwidth memory and faster flash storage, it is quicker and more responsive than ever before.
Built-in Apps
Every Mac comes with apps for creativity and apps for productivity. It also comes with a collection of great apps for things you do every day, like sur?ng the web, sending mail and messages, and organizing your calendar. It even comes with an app for finding new apps. Your Mac is more than full featured, it's fully loaded.
Note: Specifications may vary by model.
Specification
---
Free
We offer express delivery to Dubai, Abu Dhabi, Al Ain, Sharjah, Ajman, Ras Al Khaimah, Fujairah, Umm Al Quwain, UAE for Apple Laptop MacBook Air With 13-inch Retina Display, 8th Generation Dual-core Intel Core i5 1.6GHz, 8 GB Ram, 256 GB SSD, Intel UHD Graphics 617, With Touch ID, Gold | MREF2LL/A.

Best Price Guarantee
We offer the best price for Apple Laptop MacBook Air With 13-inch Retina Display, 8th Generation Dual-core Intel Core i5 1.6GHz, 8 GB Ram, 256 GB SSD, Intel UHD Graphics 617, With Touch ID, Gold | MREF2LL/A in Dubai, UAE. Buy now with the best price!
Read More
Specifications for Apple Laptop MacBook Air With 13-inch Retina Display, 8th Generation Dual-core Intel Core i5 1.6GHz, 8 GB Ram, 256 GB SSD, Intel UHD Graphics 617, With Touch ID, Gold | MREF2LL/A
Shipping Dimensions
32.00 cm x
22.86 cm x
5.94 cm
---
Reviews for Apple Laptop MacBook Air With 13-inch Retina Display, 8th Generation Dual-core Intel Core i5 1.6GHz, 8 GB Ram, 256 GB SSD, Intel UHD Graphics 617, With Touch ID, Gold | MREF2LL/A