Linksys Dual band Wi-fi Router With Ultra-Fast 1.6 Ghz CPU | WRT1900ACS
Warranty:

1 Year

Quick and hassle free warranty claims
In Stock
Condition: New
Availability: In Stock
Shipping: 24 Hour Delivery in UAE
Description for Linksys Dual band Wi-fi Router With Ultra-Fast 1.6 Ghz CPU | WRT1900ACS
Delivers a stronger connection at a wider range than a single band at speeds up to AC1900.

Promotes simultaneous high-speed data processing.

Developed for use with OpenWRT.

Safeguard your network with wireless WPA/WPA2 encryption and an SPI firewall.
PERFORMANCE PERFECTED®
With an advanced 1.6 GHz dual-core CPU and an impressive 512MB of RAM, the WRT1900ACS delivers improvements in wired, wireless, and network storage performance over its predecessor, the WRT1900AC. At speeds up to N600 + AC1300 Mbps, the WRT1900ACS meets the needs of the most demanding home Wi-Fi networks. Equipped with a four-antenna configuration, the router provides exceptional signal strength and range. Advanced users also have the option of modifying the router with open source firmware.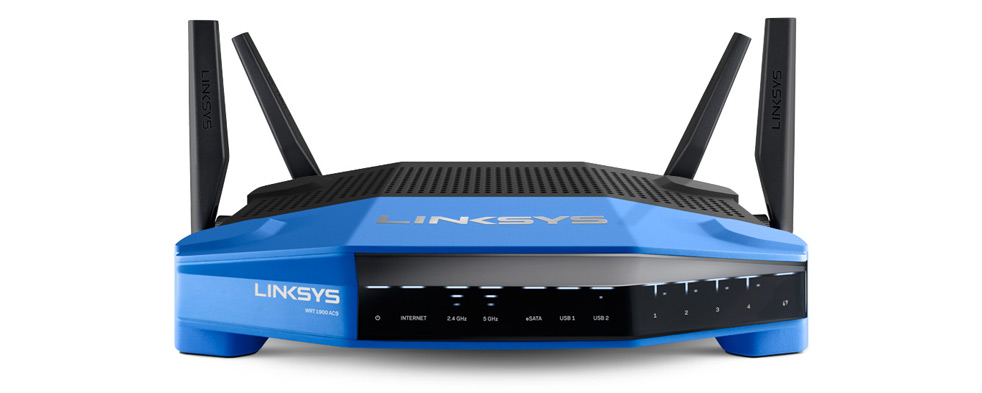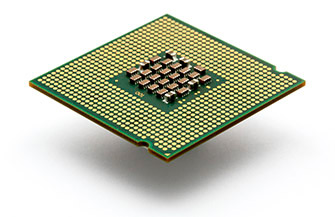 ADVANCED 1.6 GHZ DUAL-CORE PROCESSOR TO SURF, STREAM, & GAME SIMULTANEOUSLY
With a professional-grade 1.6 GHz dual-core ARM processor, the WRT1900ACS delivers faster throughput speeds and easily handles multiple data streams simultaneously. The result: better performance, particularly in today's multi-device homes.
512MB OF RAM FOR IMPROVED DATA TRANSFER
The WRT1900ACS comes equipped with 512MB of RAM that works in tandem with the 1.6GHz CPU to move movies, music, and other large files faster. With more than double the memory of its predecessor, the WRT1900ACS improves data transfer speeds, allowing you to do more, faster.
---

USB 3.0, ESATA, & GIGABIT ETHERNET PORTS TO SHARE FILES
The WRT1900ACS has four Gigabit Ethernet ports that are perfect for transferring large media libraries at speeds 10X faster than Fast Ethernet. To stream or send large files across your network at high speed, simply connect a flash drive to the USB 3.0 port or an external SATA storage device to the eSATA port. The eSATA port also serves as a USB 2.0 port.
---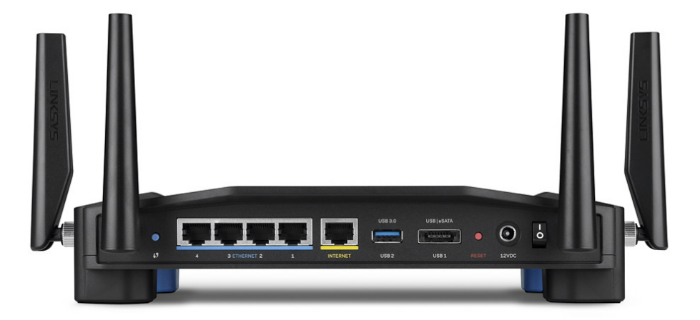 FOUR EXTERNAL ANTENNAS FOR GREATER RANGE & COVERAGE
The WRT1900ACS features four external, adjustable high-performance antennas that provide strong, reliable coverage throughout your home. The unique antenna diversity technology onboard helps your laptop, tablet, smartphone, and other connected devices achieve an optimal connection, wherever they are in your home. The antennas also enhance coverage for both 2.4GHz and 5GHz bands, keeping everyone gaming, downloading, and streaming without lag.
BEAMFORMING FOR STRONGER, MORE FOCUSED WI-FI CONNECTIONS
Designed especially for today's mobile-device households, the WRT1900ACS features Beamforming technology, which focuses wireless signals at a receiving device rather than simply sending out Wi-Fi in a general direction.
---

OPEN SOURCE READY
While the Linksys WRT1900ACS provides an outstanding experience via Smart Wi-Fi immediately out of the box, advanced users can further modify the router with open source firmware. Developed for use with OpenWRT, an open source, Linux-based operating system, the router offers an additional layer of customization to suit your needs.
LINKSYS SMART WI-FI
Linksys Smart Wi-Fi lets you access your network anytime, anywhere. Using your browser or the Smart Wi-Fi mobile app, you can:
Prioritize devices or websites for video streaming and online gaming
Control inappropriate or distracting content
Monitor network activity and speed
Turn Wi-Fi access on or off for any connected device
Create a separate, password-protected guest network
Create your free Linksys Smart Wi-Fi account here:www.linksyssmartwifi.com
---
SMART WI-FI WITH NETWORK MAP LETS YOU VIEW ALL OF YOUR CONNECTED DEVICES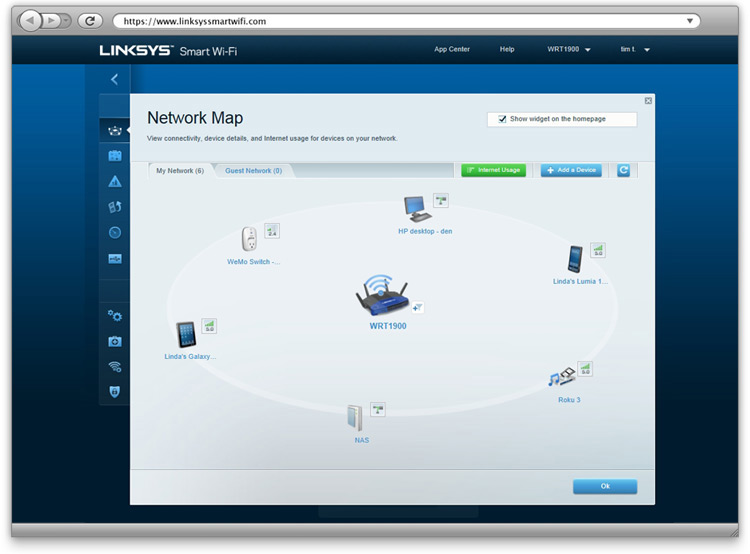 With the Network Map, you can:
See all devices on your network on a single screen
Track online status and signal strength of your devices
Measure bandwidth consumption by device
Create personalized names to easily identify your connected devices
---
GET SMART IN THREE EASY STEPS
Managing your network with Linksys Smart Wi-Fi is fast and easy: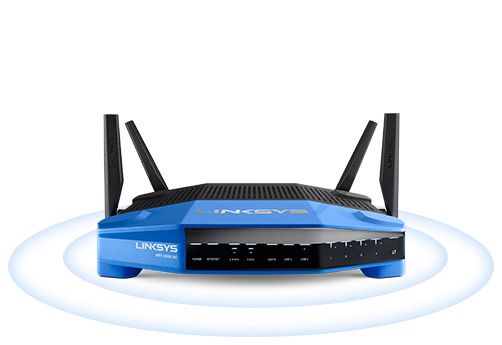 Set up your wireless home network using a Linksys Smart Wi-Fi Router.
The router will broadcast a wireless signal to your Wi-Fi-enabled devices like gaming consoles, TVs, mobile devices, and printers.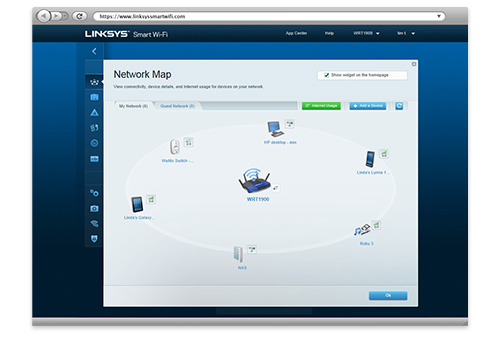 Sign up for a Linksys Smart Wi-Fi Account. It's fast and free.
Smart Wi-Fi software lets you access and control your home network from wherever you are, whenever you need to.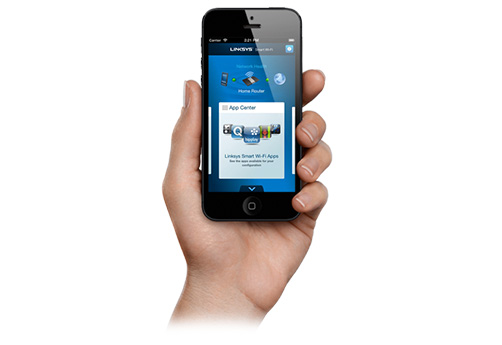 Customize your network with the Linksys Smart Wi-Fi apps of your choice.
Upgrade the functionality of Linksys Smart Wi-Fi tools, by downloading exclusive Linksys Smart Wi-Fi apps to your mobile devices.
---
TECHNICAL SPECS
Wi-Fi Technology:
AC1900 Dual-band Gigabit, 600+1300 Mbps
Network Standards:


802.11b
802.11a/g
802.11n
802.11ac

Wi-Fi Speed:
AC1900 (N600 + AC1300)
Wi-Fi Bands:
2.4 GHz and 5 GHz (simultaneous dual band)
Wi-Fi Range:
Very large homes
Number of Ports:
1x USB 3.0 port, 1x USB 2.0 port, 1x eSATA port
Number of Ethernet Ports:


1x Gigabit WAN port
4x Gigabit LAN ports

Antennas:
4x external, dual-band, detachable antennas
Processor:
1.6 GHz dual-core ARM-based
Memory:
128MB Flash; 512MB DDR3 RAM
LEDs:
Power, Internet, 2.4 GHz, 5 GHz, LAN 1–4 (10/100Mbps or 1Gbps), USB 3.0, USB 2.0, eSATA, Wi-Fi Protected Setup™
Wireless Encryption:
64/128-bit WEP, WPA2 Personal, WPA2 Enterprise
VPN Support:
PPTP Pass-Through
Operation Modes:


Wireless Router
Access Point
Wired Bridge
Wireless Bridge

Storage File System Support:

Easy Setup:


Browser-based Setup
Linksys Smart Wi-Fi Setup

Certified Operating Systems:
MacOS (10.X or higher), Windows 7, Windows 8.1, Windows 10
Minimum System Requirements:


Internet Explorer® 8
Safari® 5
Firefox® 8
Google Chrome™

Dimensions (LxWxH):
121 x 75 x 26 mm (4.76 x 2.95 x 1.02 in.)
Weight:
722.2 grams (28.43 oz)
Security Features:


WPA/WPA2
128 bit AES link encryption

Regulatory Compliance:
FCC class B
Other Certifications:


DNLA Certified
Wi-Fi Alliance
WPS Setup

Power Supply:
Input: 100-240V ~ 50-60Hz; Output: 12V/2.5A
---
24 Hour Delivery in UAE
We offer express delivery to Dubai, Abu Dhabi, Al Ain, Sharjah, Ajman, Ras Al Khaimah, Fujairah, Umm Al Quwain, UAE for Linksys Dual band Wi-fi Router With Ultra-Fast 1.6 Ghz CPU | WRT1900ACS.

Best Price Guarantee
We offer the best price for Linksys Dual band Wi-fi Router With Ultra-Fast 1.6 Ghz CPU | WRT1900ACS in Dubai, UAE. Buy now with the best price!
Read More
Specifications for Linksys Dual band Wi-fi Router With Ultra-Fast 1.6 Ghz CPU | WRT1900ACS
Model
WRT1900ACS / #13546
Product Dimensions
26.00 cm x
20.00 cm x
7.00 cm
Product Attributes
Wireless Type
802.11B, 802.11G, 802.11n, 802.11A, 802.11 A/C
Processor
1.6 GHz dual-core ARM-based
Wireless Encryption
64/128-bit WEP, WPA2 Personal, WPA2 Enterprise
Number of Ports
1x USB 3.0 port, 1x USB 2.0 port, 1x eSATA port
---
Often Bought Together
-15%
Free shipping on orders over AED 1000
---
Reviews for Linksys Dual band Wi-fi Router With Ultra-Fast 1.6 Ghz CPU | WRT1900ACS